Optimize customer experience
CCT ContactPro®
Web / Social / Mobile
Improve customer service and loyality
Developed for Multimedia Interactions
The omni-channel architecture of CCT ContactPro® offers full use of the bi-directional multimedia channel functions as offered by various services such as WhatsApp, WeChat, Facebook Messenger. In addition to chat/text activities, customer service agents can receive images, videos or documents to improve customer service and complete an operation in just one session to reduce costs. CCT ContactPro can also use social media services or SMS for outbound information, status updates or alerts. CP's PCI-compliant development also supports payment transactions or handling other sensitive customer information via web or mobile applications. The close integration with dialog-oriented AI-based systems such as Cognigy, Google Dialog Flow or IBM Watson ensures automation and the associated optimization in customer interaction.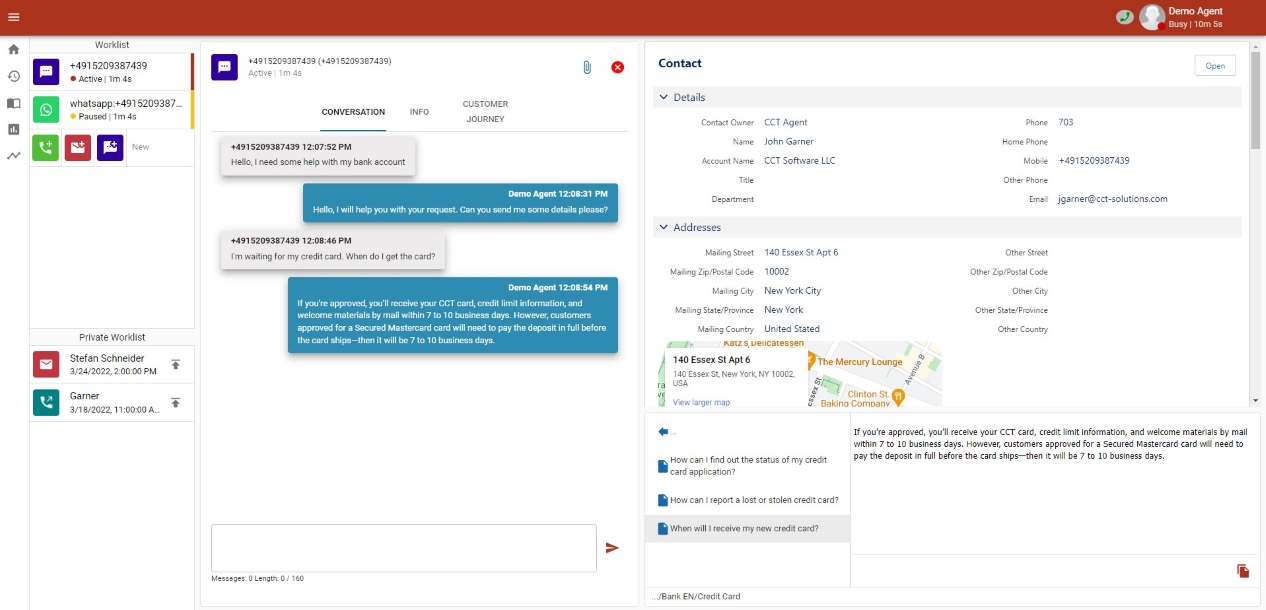 Increase agent productivity
The CCT ContactPro® worklist and dialog concept is perfectly tailored to social media services. It allows working on multiple chat streams or switching back and forth between channels when a customer response is delayed. CP collects the necessary statistics to create a comprehensive report on agent and channel activities in the analytics module or forward the data to other systems. The transfer feature allows the agent to transfer the current chat along with the history information and CRM connection to an expert, manager or colleague.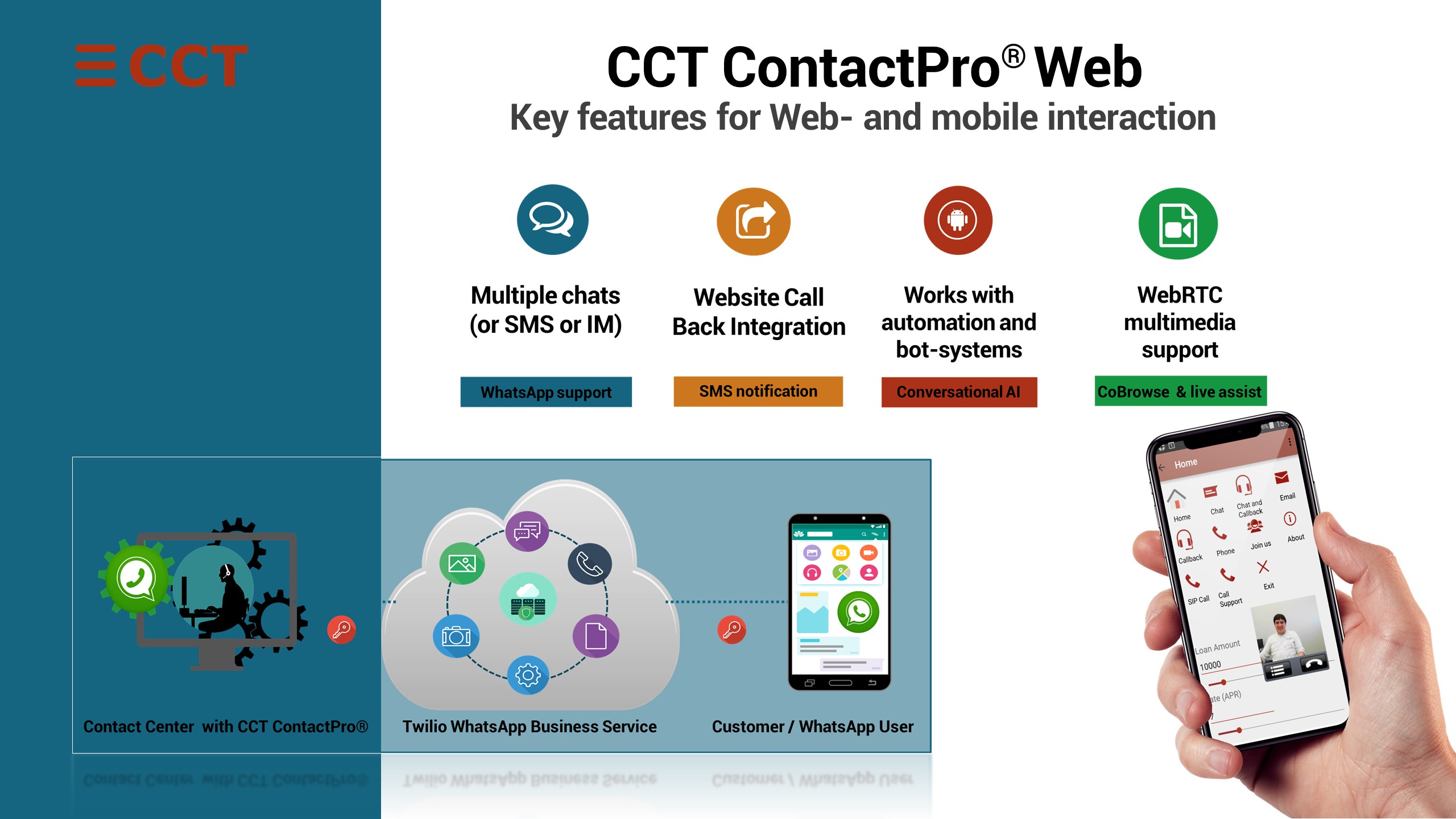 Blending and multi- tasking
Multiple customer interactions via instant messaging or combinations of channels such as SMS, web chat, etc. are configurable. CCT ContactPro® provides accurate reporting of agent activity as they switch between parallel calls.
Works with automation tools
Through plug-ins, CCT ContactPro® can communicate with other intelligent systems such as chat bots, content-driven machines, robots and social media applications such as WhatsApp, Facebook Messenger or WeChat available on the market.
Automatic database lookup
Depending on configuration, CCT ContactPro® automatically opens CRM-ERP-ITSM information based on pre-chat or bot input. In multi-session operation, ContactPro ensures that the correct customer information is always displayed in connection with the corresponding chat or SMS dialog.
Templates and tranfers
The agent can choose from a variety of templates to fill in recurring phrases or approved phrases. Multilingual templates can also be used. Flexible transfer function for passing on a dialog to a colleague, expert or supervisor. Transfers are part of reporting and are governed by rules.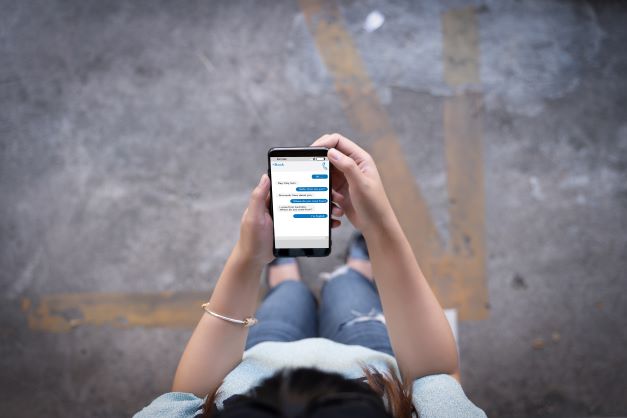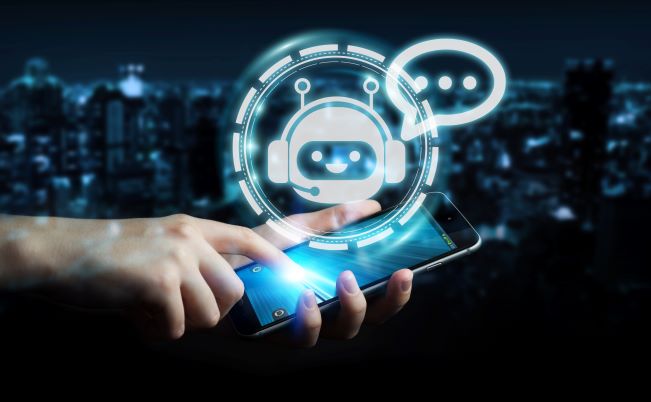 Instant Messaging integration

CCT ContactPro® simply integrates instant messaging such as SMS/Text, WhatsApp, Facebook Messenger or WeChat as an additional channel. All agent controls like skills and priorities and all blending options work in the same way as we know them from the Unified Desktop. The customer service representative can work with several conversations in parallel or mix the instant messaging with other channels such as a chat from the company website. A ContactPro® implementation from CCT can be integrated with many cloud-based messaging providers to provide a flexible solution for different Services Providers.

More about CCT ContactPro®