intelligent Customer Service
CCT ContactPro®
Automation
AI supported Omni-channel
Customer Service - Automation

CCT ContactPro® Automation is a powerful omni-channel routing and reporting solution with an Unified Agent Desktop workstation. The solution makes a crucial contribution to increasing customer satisfaction and improving the customer experience (CX). Agents can use innovative and automated communication methods to process customer requests efficiently. Intelligent support functions support the employee at work and together with automated dialogue systems, contribute to increasing productivity. CCT ContactPro® Automation has modules for universal queue control, company-wide work assignment, integrated agent management and flexible connection of AI supported bot platforms. In this way, the solution offers a perfect omni-channel service level and customer experience management environment.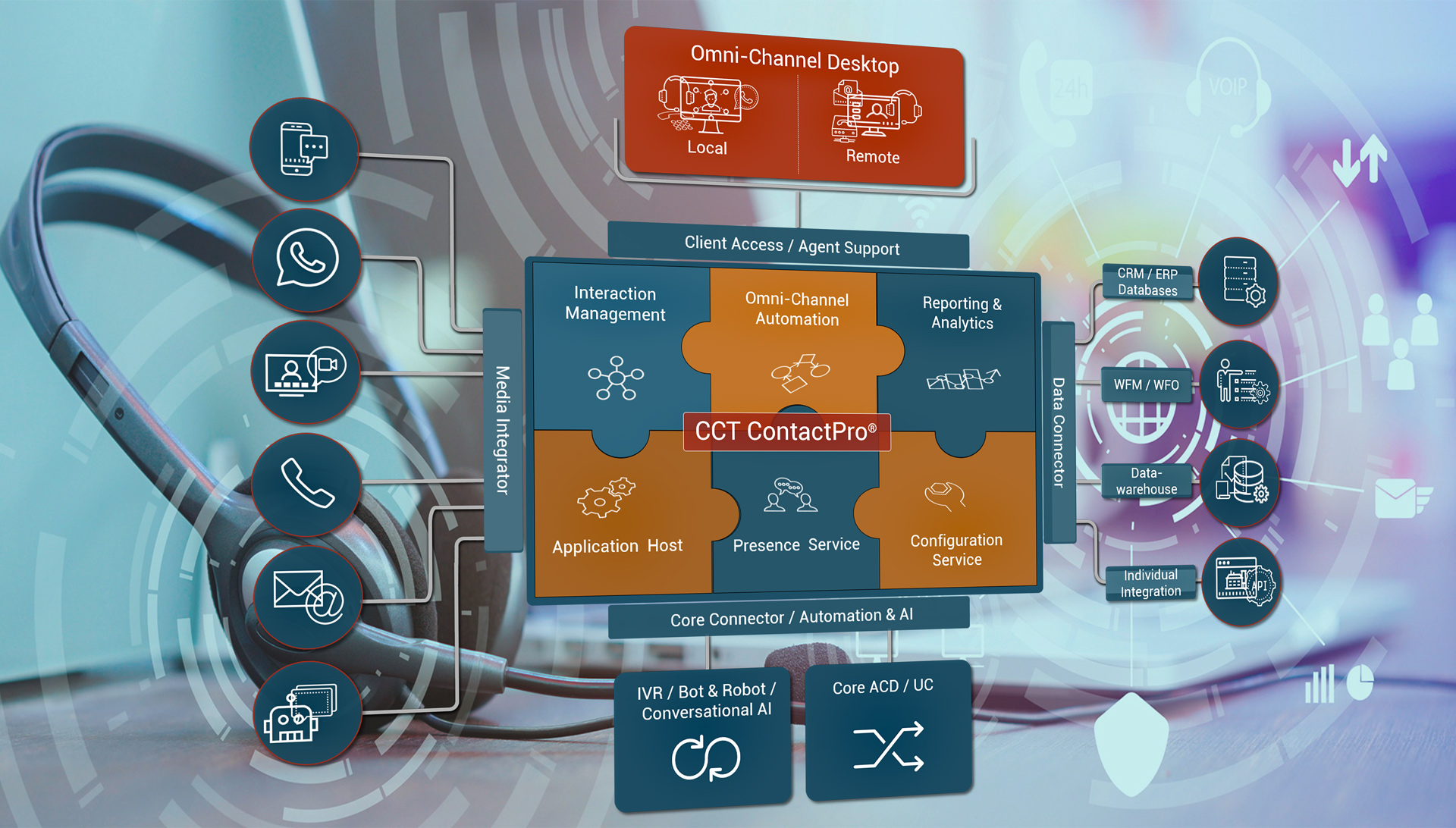 Omni-channel handling with built-in automation


The combination of CCT Contactpro® Automation, AI-supported chat and voice bots and the flexible agent workplace allow customer inquiries to be processed very effectively. The close link between CP Automation and the virtual agent in Conversional Bot systems ensures that incoming requests are treated according to the rules of customer value, available resources and best processing path.
Optimize results
CCT ContactPro® Automation provides an intelligent connection and distribution platform for automated and agent-driven interactions. CP's modular architecture enables companies to adapt processes to optimize results and offer new services.
Smart transfer
When an interaction is handed off from the IVR or bot system to the agent, CCT ContactPro® displays all information from the automated dialog along with relevant CRM records and other customer data. The agent can simply take over the dialogue from the robotic system and complete the business transaction without interruption.
Advanced Bot integration
CCT ContactPro® Automation can be configured by using the bot system as an Agent knowledge base to support the agent with additional information and leverage conversational intelligence based on AI.
Flexible configuration
Rules, permissions and actions are fully configurable, allowing granular control over how interactions are handled and which resources are leading the conversation with which kind of skills.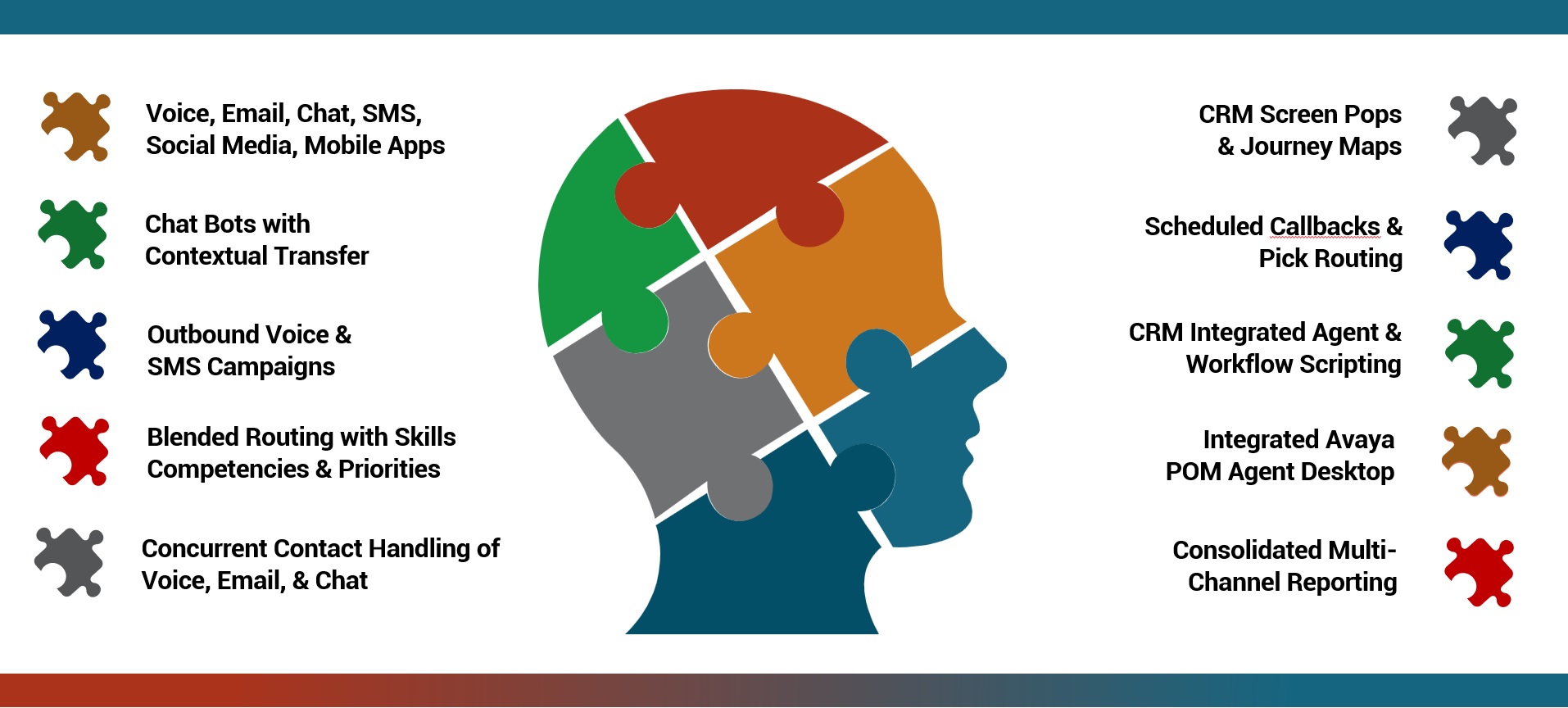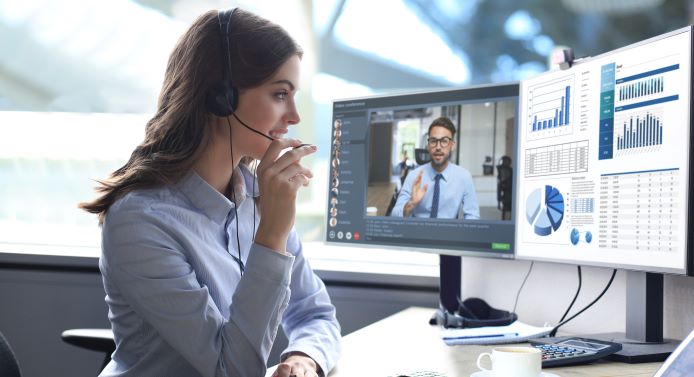 Open and scalable omni-channel solution and automation platform
The desktop and automation solution CCT ContactPro® has a modular structure and is configurable. Over 1000 configurable properties enable flexible and individual setup for configuring functions, controlling automation and customizing the workflow. Modules control agent activity, collect report data, establish connections with other services such as presence or automated dialogs and control information exchange with databases and CRM/ERP systems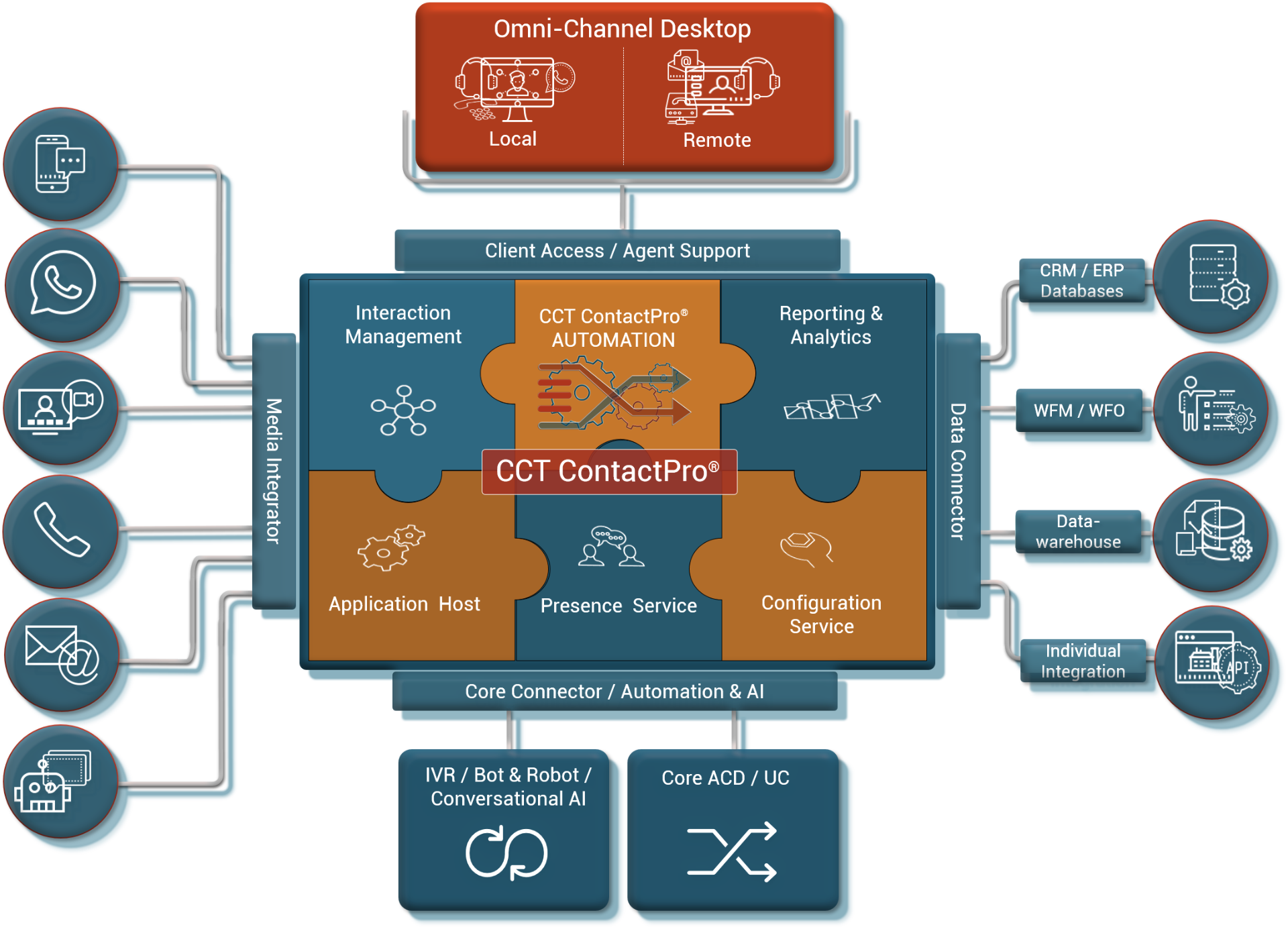 More about CCT ContactPro®