Performance and activity information
Decision support for agents and supervisors
Analytic and Reporting
CCT ContactPro® Analytics is a web-based solution to provide management, supervisor and agents with enhanced omni-channel real-time and historical reporting. CP Analytics can access all relevant systems such as CCT ContactPro® Automation, Avaya CM, Avaya Oceana, Avaya Interaction Center Database and/or Avaya OA Database, as well as Avaya Elite Multi-Channel Systems to create a complete and comprehensive omni-channel reporting.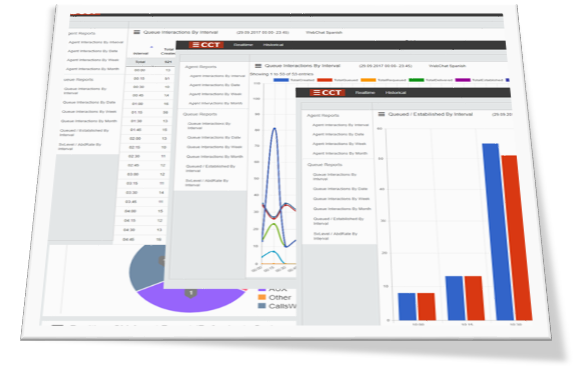 Meaningful analytics and reports to optimise results
Controlled by configuration in the CCT ContactPro® manager, reports are generated in a specific interval and are accessible by the selected groups or team-members. Reports can be exported to data-warehouse systems or for use in office tools like Excel. Based on the property configuration in CP Manager, selected agent statistics are available as an embedded dashboard-tab within the CCT ContactPro® agent-desktop window.
Multiple reporting sources
Avaya Interaction Center database only and/or Operational Analyst database
Avaya Elite Multichannel database
Avaya Breeze/Oceana Analytics
Avaya Communication Manager / BCMS and CMS Interface
Flexible configuration
Web based ContactPro configuration
Tenant and User based Reporting administration and configuration (User Rights)
User Rights from Avaya Control Manager
Modules and templates configuration on all layers
Reporting property configuration on all layers
Reports for all channel
Consolidated reports for all channels
Multiple reports on only one web site
User-friendly configuration and administration
Create your own layout
Optimized for mobile and tablet devices
Agent desktop reporting
Wallboard
Skill Manager
Threshold highlighting
Omni-Channel Reports
Personal skill assignment, Agent statistics, ACD statistics and AUX statistics
Configurable Analytics and Automated Reporting
Because CCT ContactPro® has acces to all relevant datasources the CP Analytics-Modul can generate meanigful reports. It is easy to build individual dashboards for agents, supervisors or managers. CP has the insides of all channel activities and can combine the information with addidtional agent-statistics like "postponed" or "transfered" and the details of paralell tasks as they happen in multi chat situations.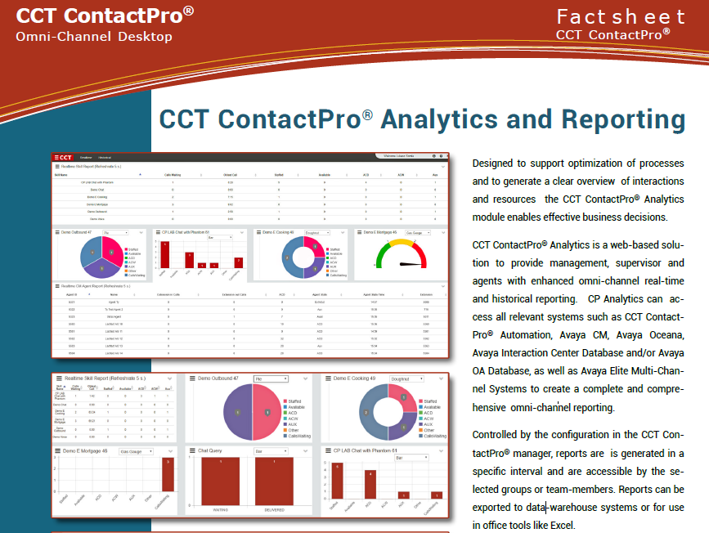 More about CCT ContactPro®