improve agent productivity
CCT ContactPro®
Intelligent desktop
Made for Omni-Channel Interactions
CCT ContactPro®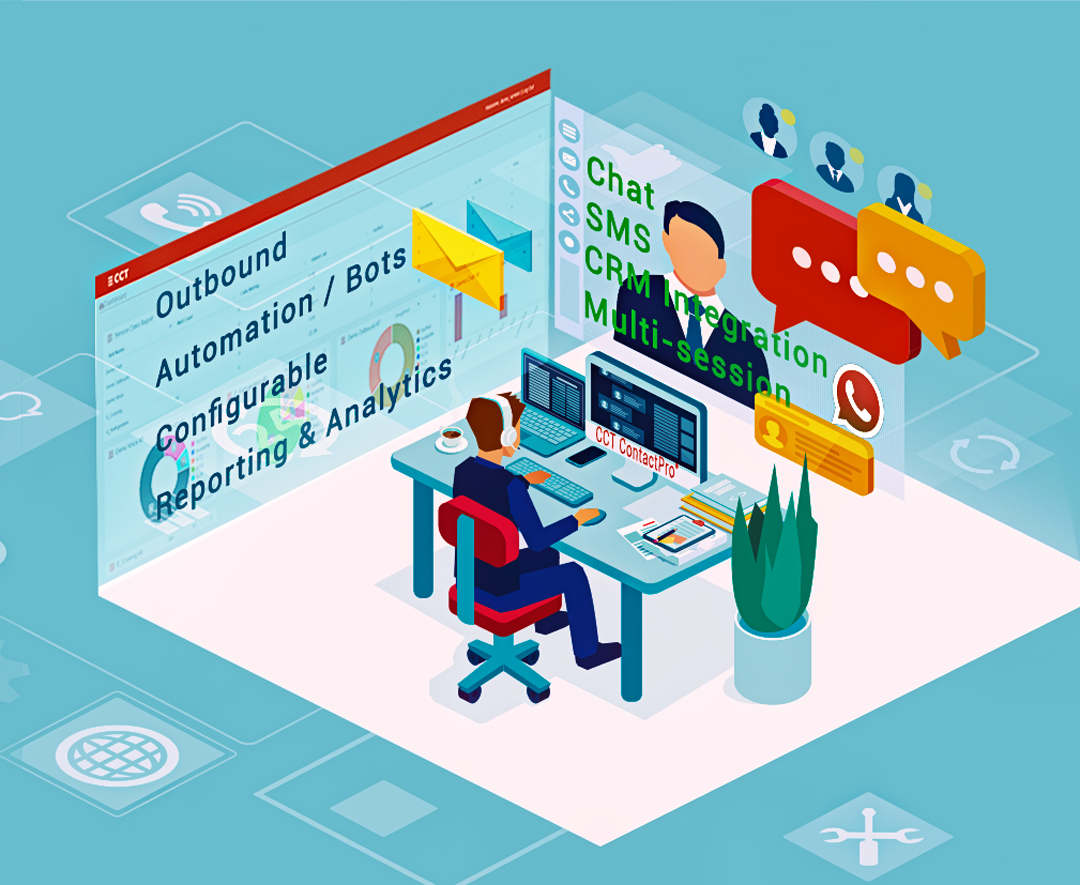 Unified Omni-Channel desktop— The central gear for automation
CCT ContactPro® (CP) is the perfect solution for automation and the agent desktop in an omnichannel contact center environment. Contact-Pro® empowers agents to efficiently serve customers in today's demanding world of omni-channel communication. The state-of the-art technology solution helps leverage existing infrastructure while decreasing contact center costs and increasing customer satisfaction.
"The flexible and adoptable desktop in combination with automation and integration capabilities enables efficient services with the best available resources at the right time to deliver an excellent customer experience (CX)"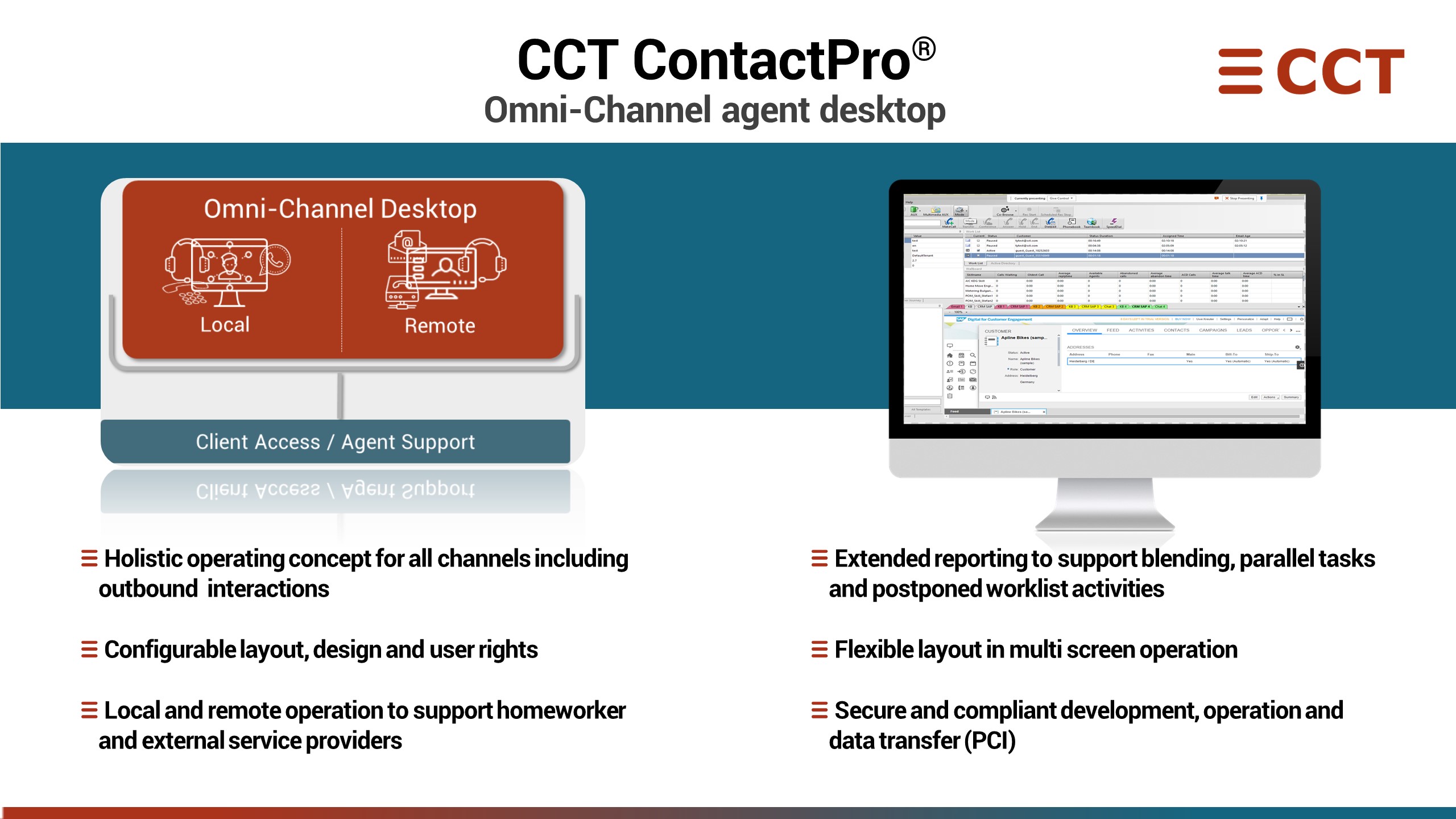 Higher agent productivity
The right information for a successful customer dialog and reduced over-head through automation increase the agentproductivity
■ Customer history
■ CRM /ERP support
■ Reporting & Analytics
Increased customer satisfaction and CX
Consistent information through all media channels and integration of self-service systems with AI driven automation increase customer satisfaction.
Optimized workflows and new services
A worklist concept and configurable functions provide a flexible alignment with desired workflows. It enables an easy implementation of new services.
Inbound, outbound, call-back and multi media handling
CCT ContactPro® supports blended inbound and outbound interactions including call-back. To optimize the customer experience CP offersfull multi media capabilities.
Omni-channel desktop solution for an outstanding customer experience (CX)
Savvy customers control the method they want to use for interactions. Sometimes a quick answer in a bot dialog is what they want, while next time an agent interaction with assisted service like co-browsing would be the preferred choice to solve an issue. That means, if outstanding customer experience (CX) is an important factor in an organisation's business strategy it will be necessary to realign people, process and technology within the organization to ensure that excellent customer service becomes the key differentiator.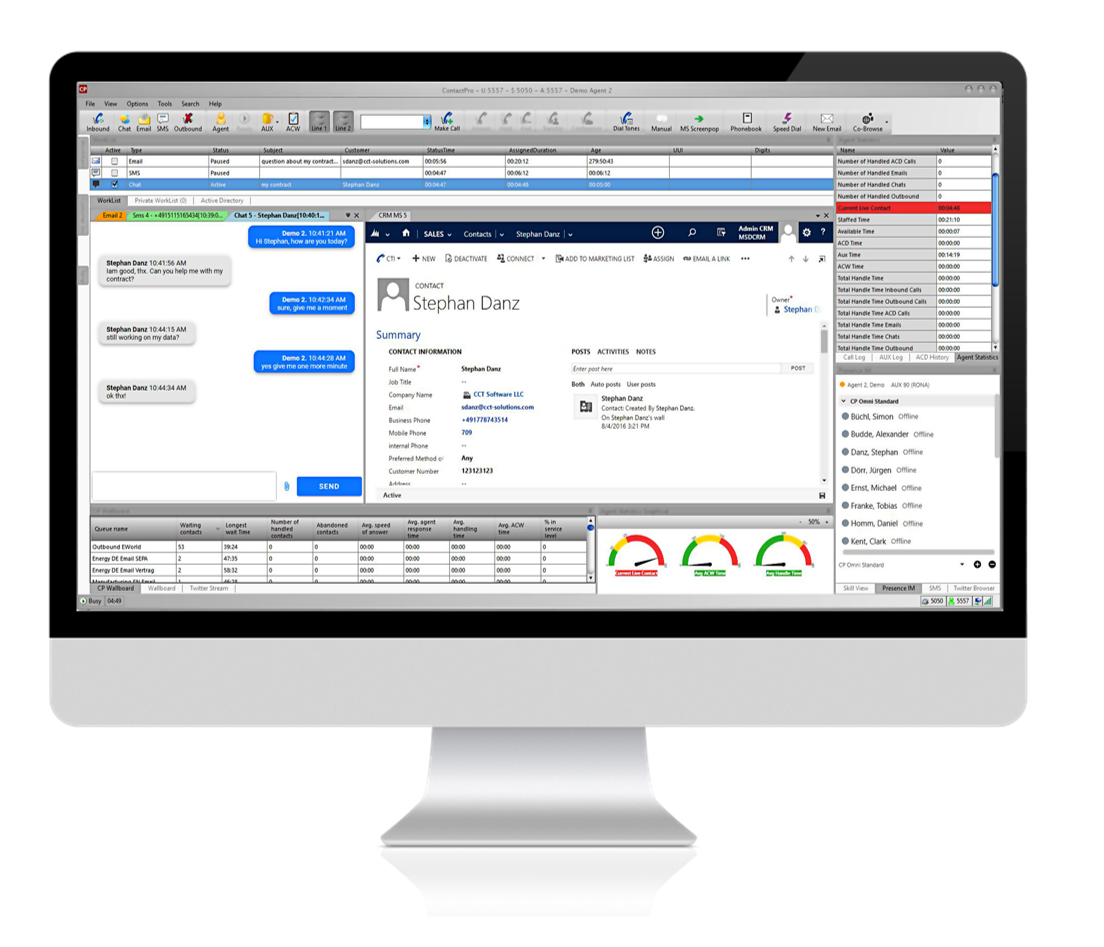 More about CCT ContactPro®