Intelligent support for the agent
CCT ContactPro®
CRM / ERP Connection
Right information at the right time
Powerful Connections
The CCT ContactPro® open Data-Connector offers integration and information exchange with the leading CRM / ERP solutions as well as individual adoption to specific applications and databases. Search, update and display parameters are flexible and easy to configure so that always the right information is available to support the agent in the best possible way.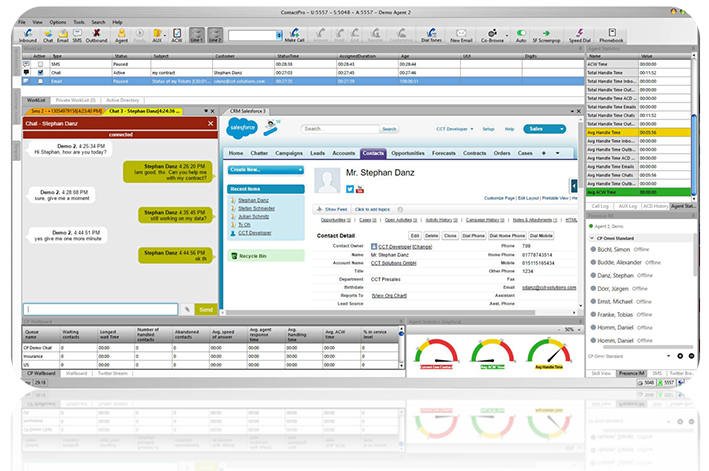 Configurable Connections
CCT ContactPro can be configured to individual requirements and offers efficient support to increase agent productivity. A total view of all customer and/or case activities, together with preselected information from CRM and ERP systems, ensures improvements in customer satisfaction scoring and first time call resolution. The reporting and channel blending capabilities of CP allow the best possible use of resources and help to meet and exceed SLA targets.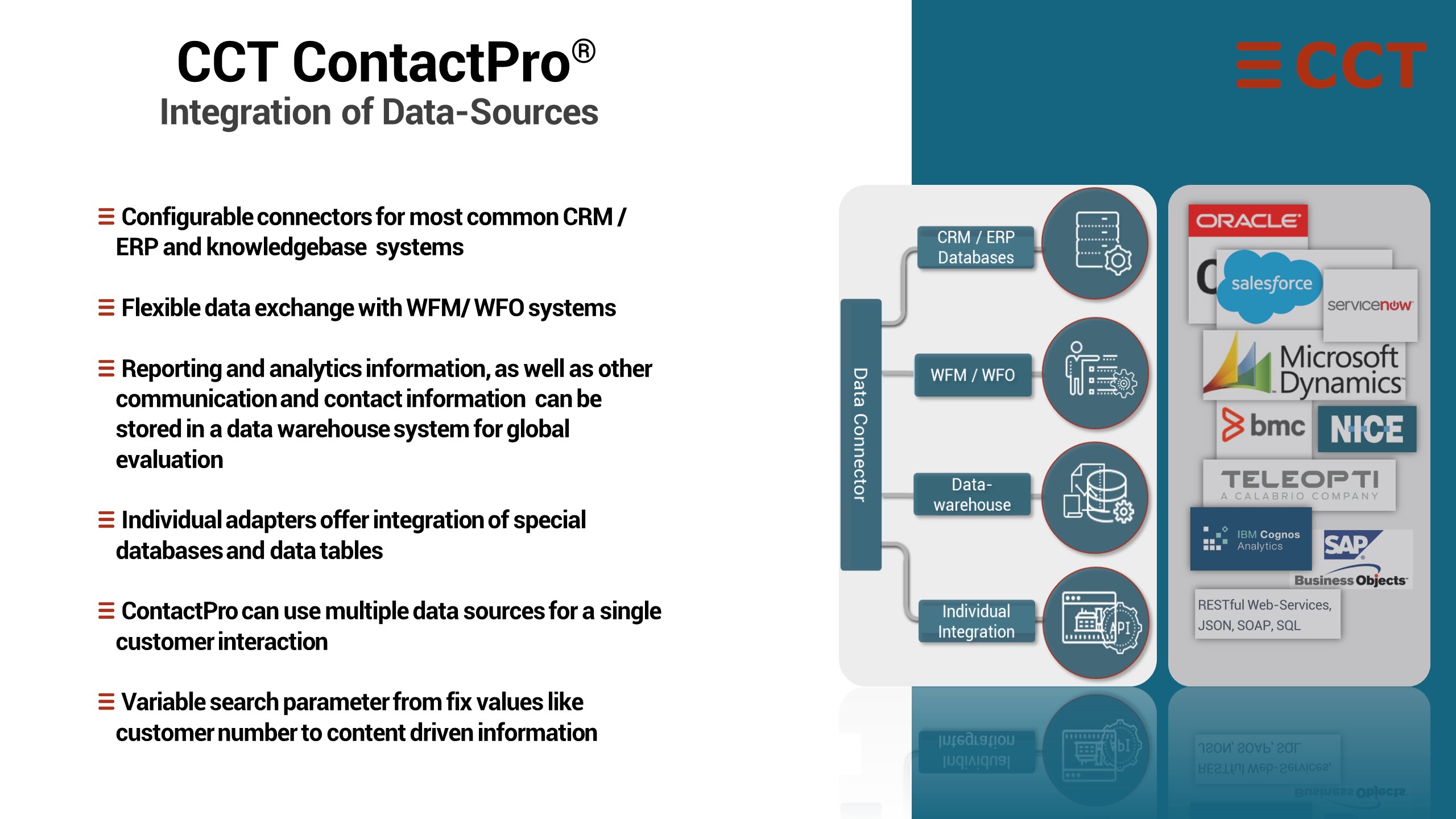 Adoptable
Configurable connectors for most common CRM / ERP and knowledge-base systems
Individual adaptations offer the integration of special databases and datatables
Linked with other applications
Flexible data exchange with WFM/WFO systems
Reporting and analytics information as well as other communication and contact information can be stored in a data warehouse system for global evaluation
Variable search options
Variable search parameter to select data-records, from fix values like customer number to content driveninformation
Can use IVR or Bot information to select records or knowledge-base content
Rule based support
Rule-based properties for different screen pops. Linked with information and context of the interaction
Transfer contact with CRM record
Can be combined with PCI-compliant dataentry
Best Possible Support for the Agent
CCT ContactPro® provides a Unified Agent Desktop Solution with Avaya Oceana and/or Avaya Interaction Center, Elite Multichannel, Elite Voice AES only and AEP POM Proactive Outreach Manager. Central Configuration is provided through a Snap-in and / or with the user management of the System Manager. Together with CP-Properties it provides a intelligent control about the CRM information that supports the agent at the CCT ContactPro desktop. CCT ContactPro® can be connected to multiple data-sources at the same time.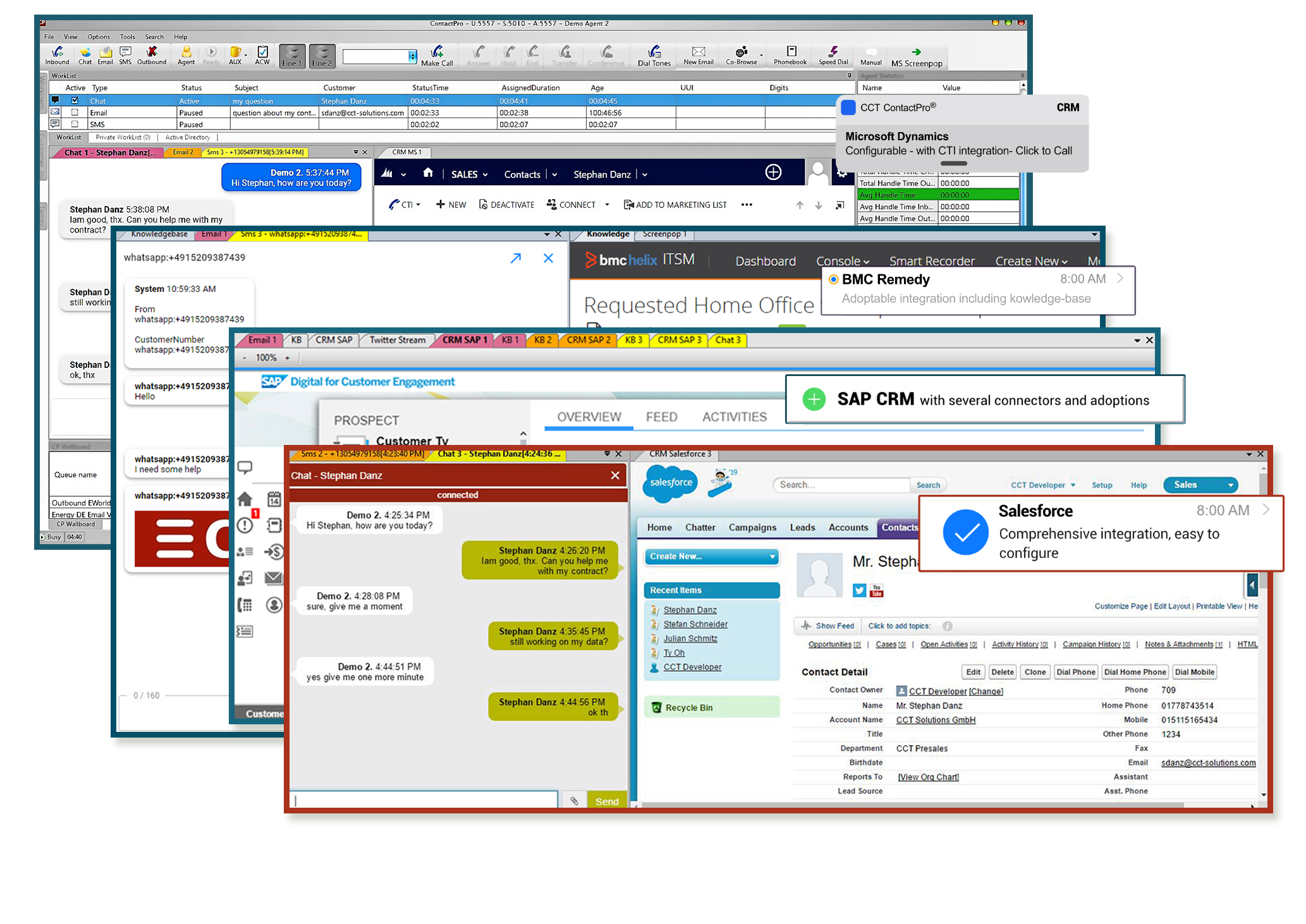 More about CCT ContactPro®