intelligent Customer Service
CCT ContactPro®
Automation
AI supported Omni-channel
Automation
CCT's ContactPro® Automation offers flexible multi media handling to improve customer satisfaction and CX. Agents can now leverage innovative and automated communication methods to improve productivity and business results.The CCT ContactPro® Automation engine is enhanced by universal queuing, enterprise work assignment and simplified agent management. This way the solution provides a perfect omni-channel service level and customer experience management environment.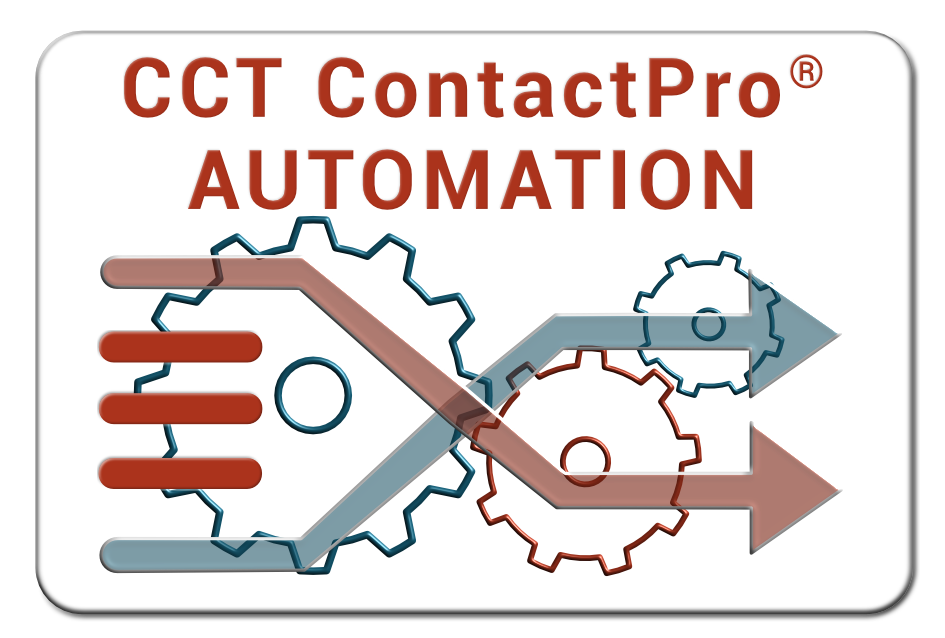 Multimedia handling with integrated automation
The combination of CCT Contactpro® Automation, intelligent bot-solutions and flexible agent desktop lead to a very effective handling of customers inquiries.The close link between CP Automation and conversational driven bot applications for voice or text chats assure that incoming interactions are treated according to the customer value, availableresources and best path to solve the issue.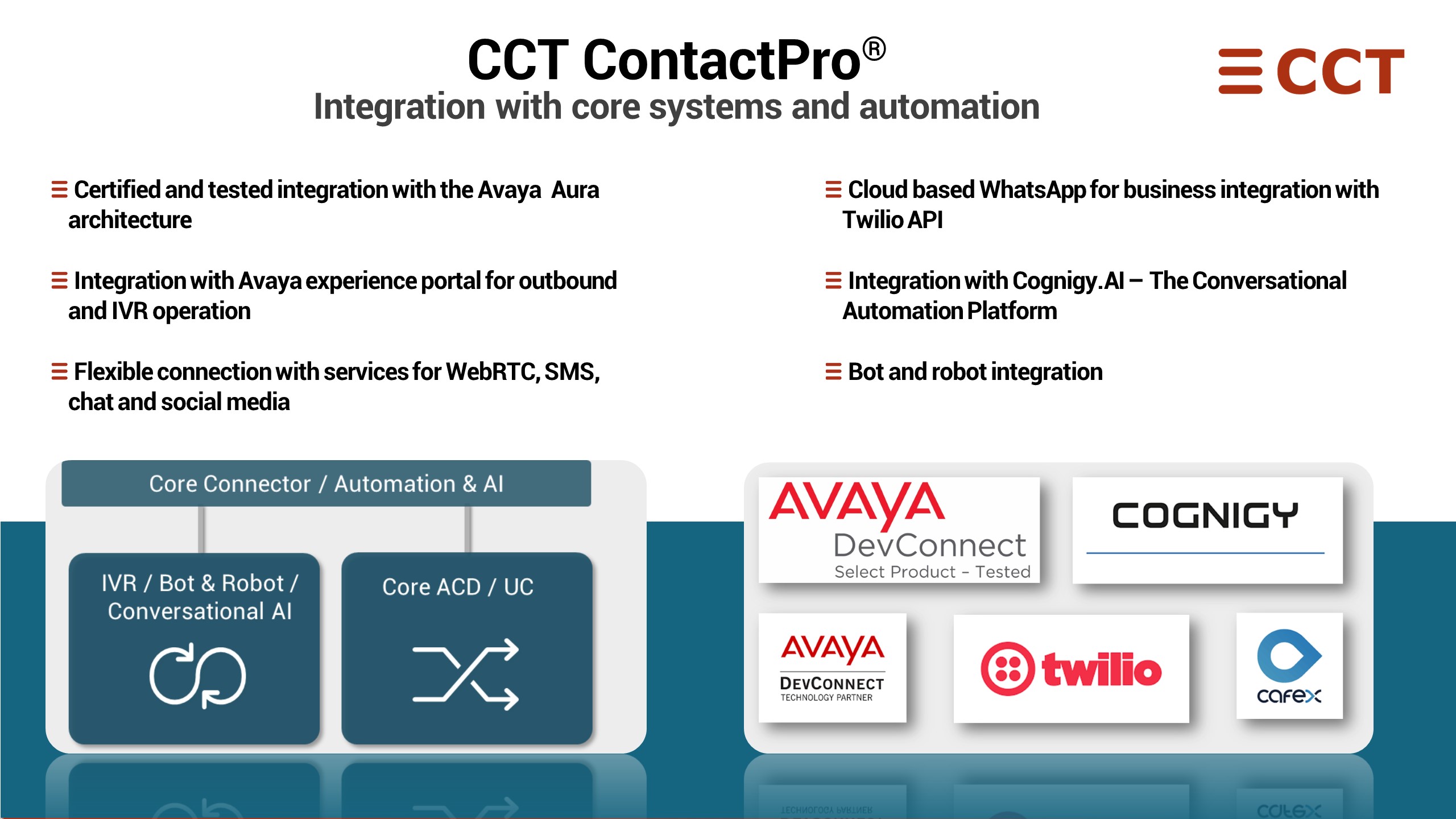 Optimize results
ContactPro® Automation provides an intelligent connection and distribution platform for automated and agent led interactions. The modular architecture of CP enables organisation to adjust processes to optimize results and to offer new services.
Smart transfer
If an interaction is passed from the IVR or bot system to the agent, CCT ContactPro® displays all information from the automated dialog together with relevant CRM-Records and other customer data. The agent can simply take over form the robot system and close the case.
Bot integration
The ContactPro® desktop is configurable to use the bot-system as knowledgebase to support the agent with additional information, leveraing the conversational intelligence.
Flexible configuration
Rules, permissions and actions are fully configurable and allow granular control how interactions are treated and which resources will handle the conversation with which capabilities.
Open and Scalable Desktop Solution and Automation Platform
CCT ContactPro® desktop and automation solution is modular and configurable. Over 700 properties allow a flexible and individual setup to configure functions, automation and workflow. Modules control the agent activity , collect reporting data, provide connections with other services like presence or automated dialogs and handle the information exchange with databases.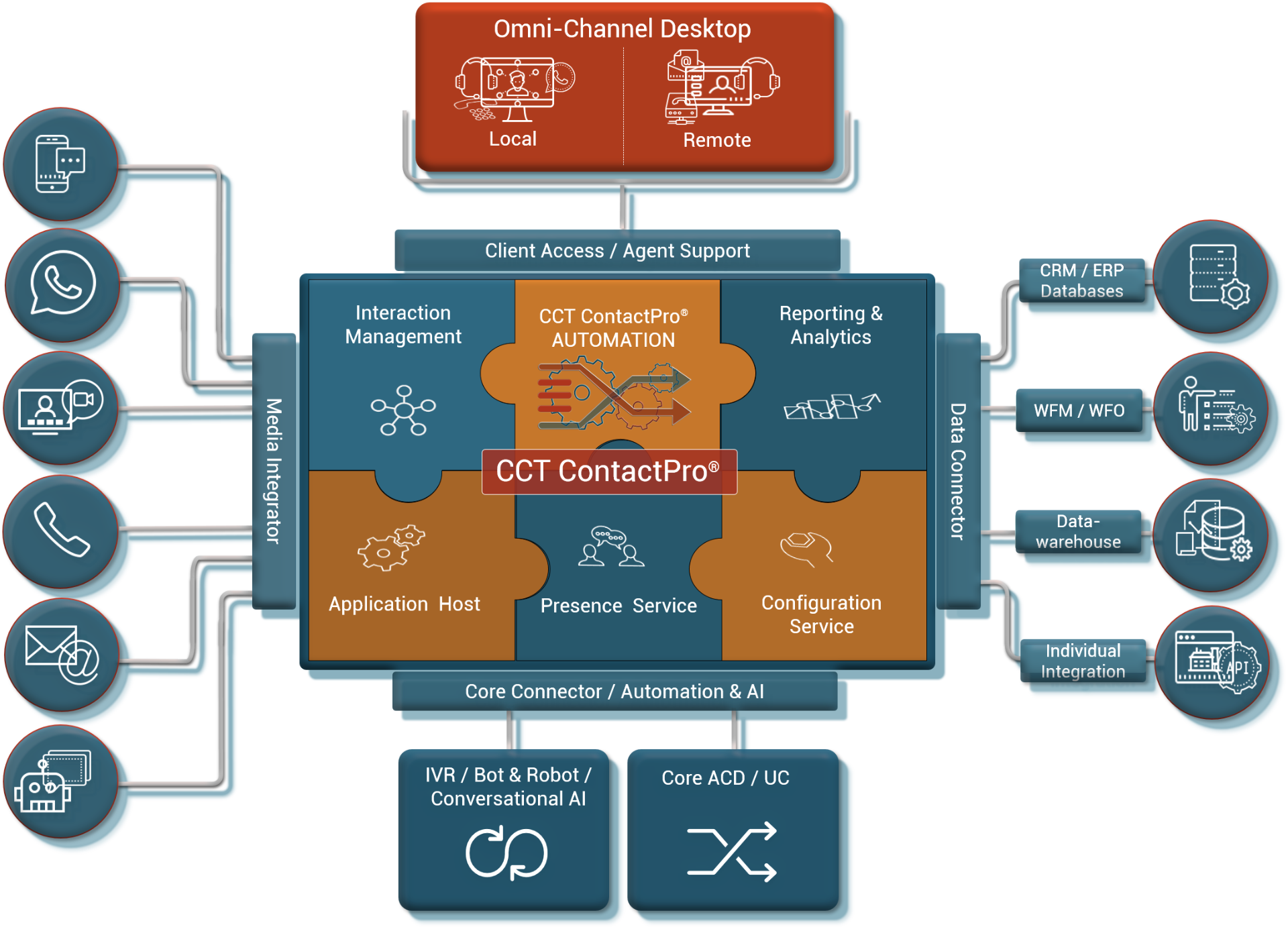 More about CCT ContactPro®