Performance and activity information
Decision support for agents and supervisors
Analytics and Reporting

To measure service level and quality of a customer service across multiple channels, powerful tools are required. CCT ContactPro® Analytics is a modern Web and non-SQL based solution to provide Customer Service Management, Supervisors and Agents with the best omni-channel real-time and historical reporting. CP Analytics provides a very flexible customizable realtime dashboard, with different views for Agents, Supervisors or large TV Screens. Historical and integrated Reports can be created on the fly to provide an excellent view on performance and quality. To keep it as simple as possible for you, CCT Solutions has created numerous Standard Reports to start extremly fast.
CP Analytics can access all relevant internal and external systems such as CCT ContactPro® Omni and ContactPro Automation, to create a complete and comprehensive omni-channel reporting environment.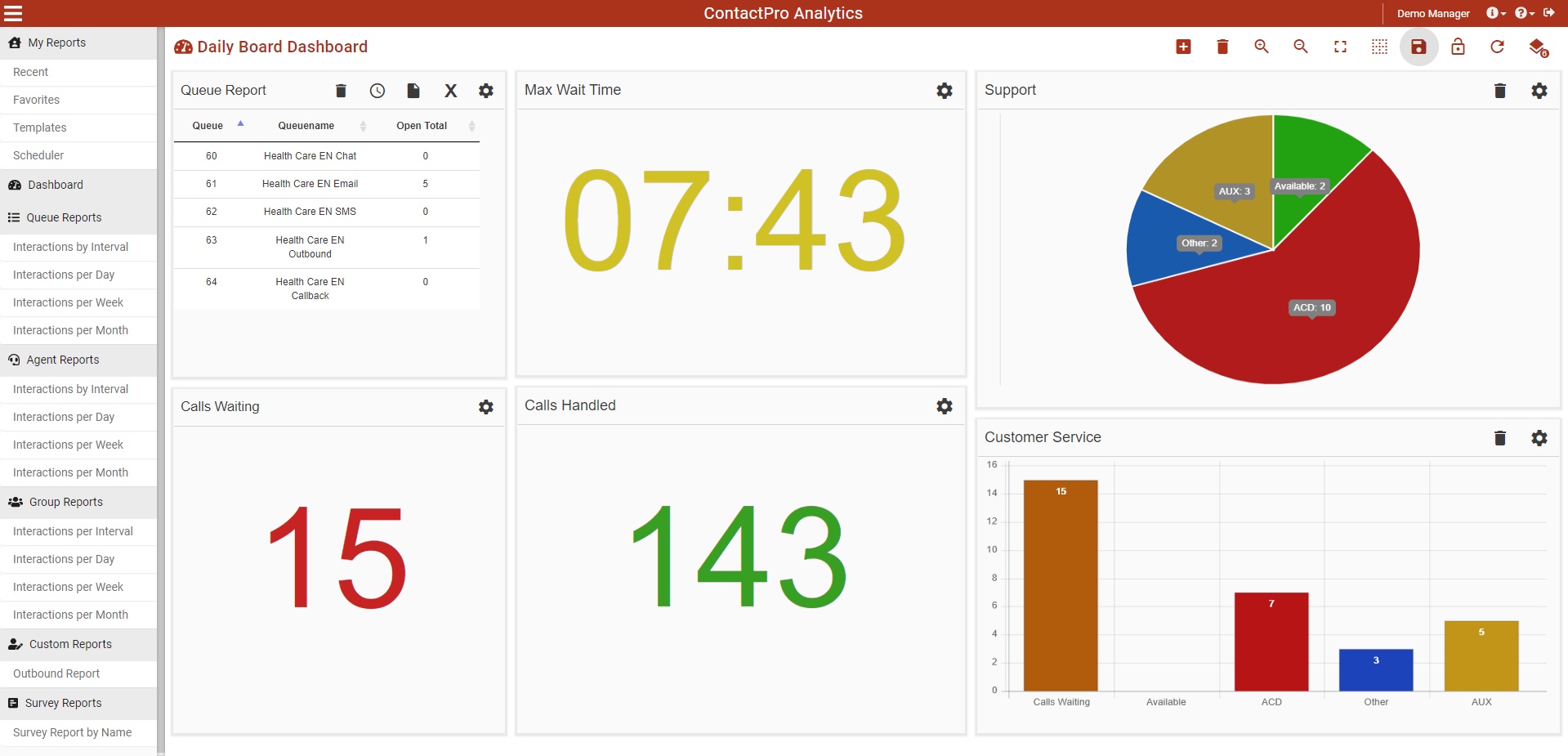 Meaningful analyzes and reports to optimize your results
With easy configuration in CCT ContactPro® Analytics, reports are generated at specific intervals and are accessible to selected groups or team members via CCT's unique property settings. A modern web browser-based reporting environment has access to a full set of real-time and historical data. Reports can be automatically generated in any useful format, e.g. PDF, XLS, csv, just to name a few. They can be sent quickly via email or made available in the browser. Automatic data exports to data warehouse systems or workforce management systems WFO/WEM or any self-developed tool are provided. Based on the property configuration in CP Manager, selected agent statistics are available as an embedded dashboard in the CCT ContactPro® agent desktop.
Reports for all channels

■ Consolidated reports for all channel
■ Multiple reports single page
■ User-friendly configuration and administration
■ Create your own layout
■ Optimized for mobile and tablet devices
Agent desktop reporting

■ Full Omni-Channel Reports
■ Desktop Wallboard -Browser based
■ Agent statistics
■ Queue statistics
■ Graphical, Tabular, Pie
■ ACD-AUX-ACW statistics
■ Inview Messaging to Agents
■ Self Skill assignment
■ Threshold highlighting

Flexible configuration

■ Web based ContactPro configuration
■ Tenant and User based Reporting administration
■ Configuration with User Rights
■ User Rights take over from Avaya Control Manager
■ Modules and templates configuration on all layers
■ Reporting property configuration on all layers
Multiple reporting sources


■ Avaya CM (CDR Link)
■ Avaya CMS Realtime Socket, Historical Socket, ODBC and ECH Link
■ Avaya Interaction Center Database
■ Avaya OA Database
■ Avaya EMC Elite Multi-Channel Systems Database
■ Avaya AES Server
■ Twilio Programmable Voice & Studio
■ RingCentral ACD/IVR
■ Microsoft Teams Contact Center
■ Oracle Database
■ SQL Server
■ Mongo DB Enterprise &  Community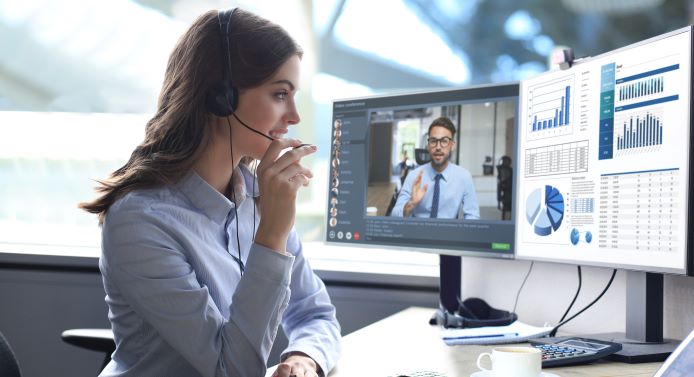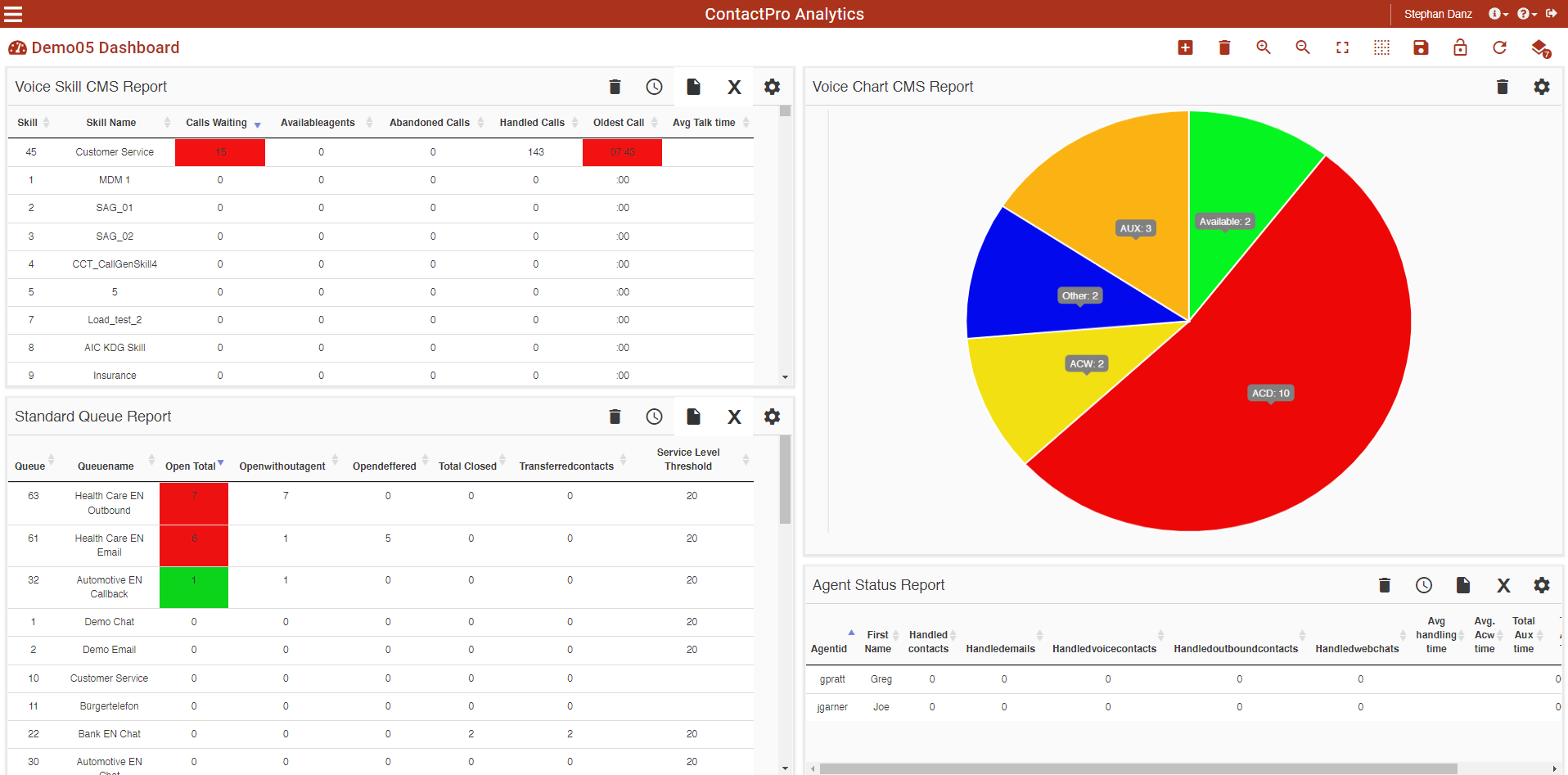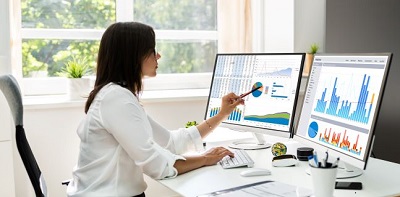 Configurable Analytics and Automated Reporting
CCT ContactPro® Analytics has acces to all relevant datasources. The CP Analytics-Modul can generate meanigful reports.  It is easy to build individual dashboards for agents, supervisors or managers. CP has the insides of all channel activities and can combine the information with  lost of agent-statistic deatils like "postponed", "transfered", messages per chat, avg. time between chat messages etc.  It also includes the details of multitasking as this could happen in multi-chat. multi-email or multi-messaging situations.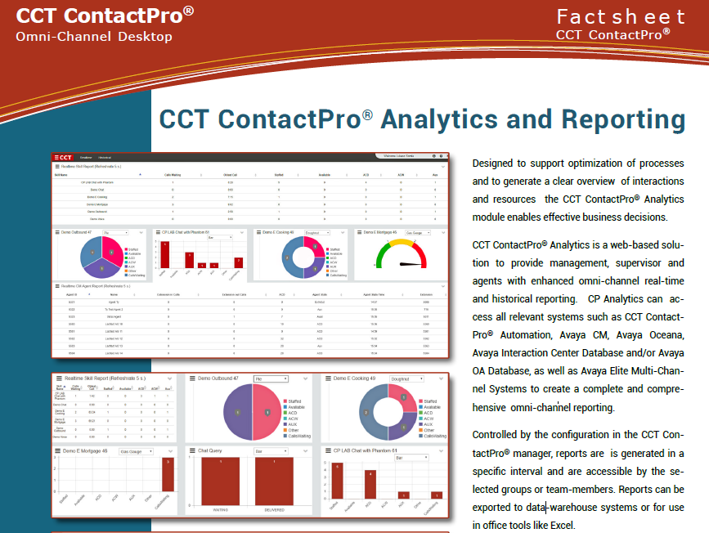 More about CCT ContactPro